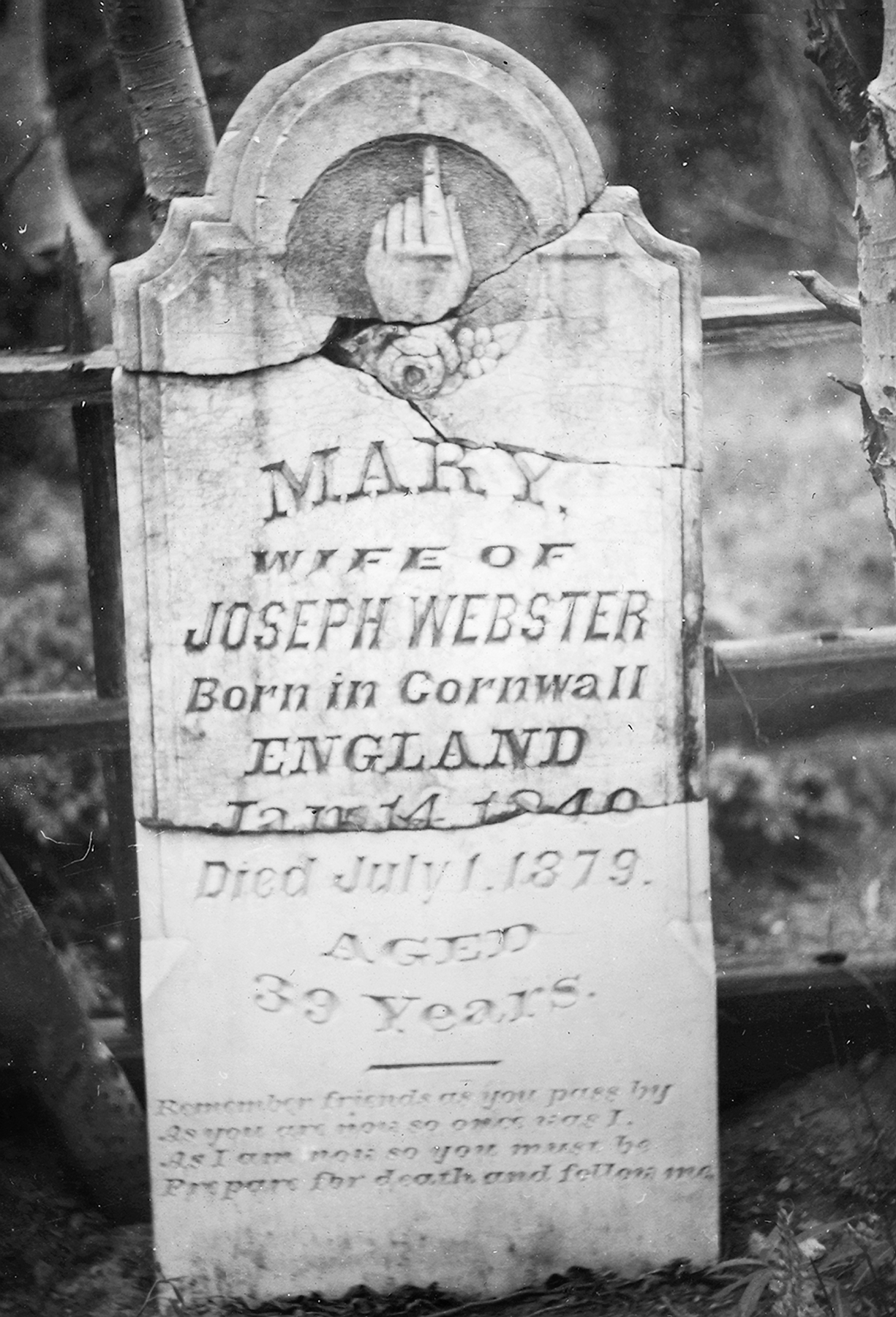 This undated photo (likely from the 1950s) shows Mary Webster's gravestone in the Caribou Cemetery. Carnegie Library for Local History, Museum of Boulder Collection.
Cornish lives remembered on Caribou's 150th anniversary
Camera, July 27, 2018

In 1869, a lone prospector staked a mining claim high in the mountains of western Boulder County. The mine, named the Caribou, was rich in silver and set off Colorado Territory's first major silver rush. The community of Caribou (west of Nederland) grew up near the mine and became a boom town almost overnight, then a devastating fire signaled the beginning of its decline a decade later.

This year marks Caribou's 150th anniversary –– a time to reflect on and remember the hardy Cornish immigrants who lived and died on the American frontier.

When mines in Caribou were being developed in the 1870s, they opened up opportunities for skilled underground miners. Meanwhile, tin and copper mines in faraway Cornwall, England were laying off their workers. Some, like Joseph Webster, uprooted their families and traveled by ship and then overland by wagon or stagecoach to start new lives in a new world.

Joseph, with wife Mary and three children, initially found work in an iron mine in Morris County, New Jersey. Then, in the mid-1870s, after the birth of two more children, the family made their way to Caribou. Other families relocated directly from their snug seaside homes in Cornwall to log cabins at 10,000 feet in the Rocky Mountains.

At Caribou, the work environment for Joseph and the other underground miners was not much different from that which they had left behind. But, above ground, their surroundings were vastly different. Adapting was more of a culture shock for the women.

Both men and women, however, compensated by bringing their culture and customs with them. Cornish immigrants were known for their brass bands and were in demand in Caribou and other mining towns, even traveling to Boulder to play for dances and weddings.

Lives of married women, such as Mary, centered around activities in the community's one-room school as well as the church, whose mostly Methodist congregation was regularly visited by a circuit-riding preacher. Likely, his message touched on the community's biggest fears –– mine accidents, disease, and fire.

Disease came first to the Webster family. Mary died on July 1, 1879 at the age of 39, during an epidemic of diphtheria. The Samuel Richards' family, also in Caribou, lost three children a few days later. They and more than a dozen or two others are buried in the Caribou Cemetery.

In September 1879, the first of three big fires to hit Caribou swept in from the west and destroyed more than 40 dwellings, prompting many discouraged families to move away. Fortunately, no one was killed.

Joseph moved his children to Central City where he and his sons found work in the district's gold mines. But, the family left a vestige of Mary's heritage behind. In addition to her name and dates, they proudly stated that she was born in Cornwall, England. Mary's stone also includes a frequently used epitaph beginning with, "Remember friends as you pass by, as you are now so once was I."

Tragically, many gravestones, including Mary's have been vandalized. But, whoever stopped by Mary's grave years ago and took a photo (now in Boulder's Carnegie Library for Local History) of her stone preserved her memory, allowing us to remember her, too.